Honeycomb Ceramic Substrate for Catalytic Converter for exhaust gas purifier for car/motorbike/motorcycle. Their thermal expansion coefficient can be controlled within 1.1 × 10-6, the average diameter of poreis 8-10μ M, with the wall thickness of 0.15-0.17mm, and ready to be used in a variety of catalytic converter applications. According to different requirement of exhaust-gas control, selecting high efficient ceramic substrates of various kinds. We offer more than 40 sizes of ceramic substrate with various cell designs. Special size can be customized according to your special request. Honeycomb ceramic substrate is made of cordierite, and it is used for car catalytic converter. We can supply both ceramic element coated with noble metals of Pt, Pd, Rh and ceramic element without noble metals.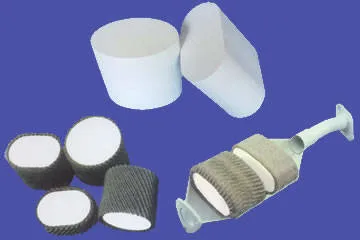 We can produce 100CPSI, 200CPSI, 400CPSI, 600CPSI can be in the shape of round, racetrack and ovral. Specification can be customerlized, as the the customers requirement. It can be coated with the catalyst and the noble metal as the customers emission standards: Euro II, EuroIII and EuroIV and EPA standard and the Cariforlia standards.
Cordierite Ceramic Honeycomb substrate for for car exhaust gas purifier, used as catalytic converters of gasoline engines, the honeycomb ceramic catalyst substrates are coated by catalyst. At the same time, we improve the specific surface areas and cut down the heat capacity to increase the catalytic function. When the noxious emissions pass through, HC, CO and NOX will be converted into harmless components.
The necessary property of Ceramic Honeycomb catalyst substrate used in cars as follows:
*High specific surface area: Ensure exhaust gas could contact weigh catalyst enough
*Stable water absorption: Guarantee catalyst could be firmly and evenly coated on the surface of substrate, so it's no waste for too thick coating
*Warm up characters: After starting up engine, the temperature of substrate could reach the active temperature of catalyst in the shortest time
*Low exhaust resistance: Ask exhaust resistance of substrate to engine low, so that it won't affect the performance of engine
*High intensity: Substrates work in bumpy cars, so the intensity of substrates must be too high to be destroyed
*Perfect assembly: Substrates are parts of exhaust; Perfect appearance and exact dimension could ensure assembly perfect
used in car ( gas )
(mm)
Litre
400 sells per square inch
Round shape
φ 150*100
1.767
φ 144*152.4
2.482
φ 118*152.4
1.667
φ 115.4*152.4
1.594
φ 106*100.4
0.886
φ 103*100
0.833
φ 101.6*152.4
1.236
φ 100*100
0.786
φ 93*152.4
1.035
φ 83*152.4
0.825
φ 80*100
0.503
φ 76*50
0.227
φ 41*25
0.033
Racetrack ellipse
P169*80.8*115
1.41
P148*84*152.4
1.66
P144.8*81.3*127
1.32
P127*63.5*152.4
1.10
P93*61*91
0.44
P120.6*80*152.4
1.26
P143*98*152.4
1.82
P147*95*152.4
1.83
P177.8*114.3*170
2.98
abnormity
T144*84*75
0.713
T114*105*75
1.081
T120.2*108.2*75
0.766
T112.2*92*115
0.932
T119.5*99.5*115
1.074
T122.3*104.4*80
0.802
(mm)section size
(mm)max length
Litre
300 sells per square inch
Round shape
144.0000
200.0000
3.258
150.0000
200.0000
3.535
190.0000
200.0000
5.671
220.0000
200.0000
7.604
240.0000
200.0000
9.049
600 cells per square inch
93.0000
152.4000
1.035
101.6000
152.4000
1.236
118.0000
152.4000
1.667