(1) Membrane Panel Introduction
Membrane switch panels are made of several layers of polyester printed and assembled together. They allow to create a custom human-machine interface at a reasonable price with low investment cost.
A
lens
is a transmissive optical device that focuses or disperses a light beam by means of refraction. A simple lens consists of a single piece of transparent material, while a compound lens consists of several simple lenses (
elements
), usually arranged along a common axis. Lenses are made from materials such as glass or plastic, and are ground and polished or molded to a desired shape. A lens can focus light to form an image, unlike a prism, which refracts light without focusing. Devices that similarly focus or disperse waves and radiation other than visible light are also called lenses, such as microwave lenses, electron lenses, acoustic lenses, or explosive lenses.
Membrane switch, which is related to membrane panel, also named membrane keyboard, membrane keypad and overlay graphic, is an electrical switch for turning a circuit on and off. It differs from a mechanical switch, which is usually made of copper and plastic parts: a membrane switch is a circuit printed on PET or ITO. The ink used for screen printing is usually copper / silver / graphite filled and therefore conductive.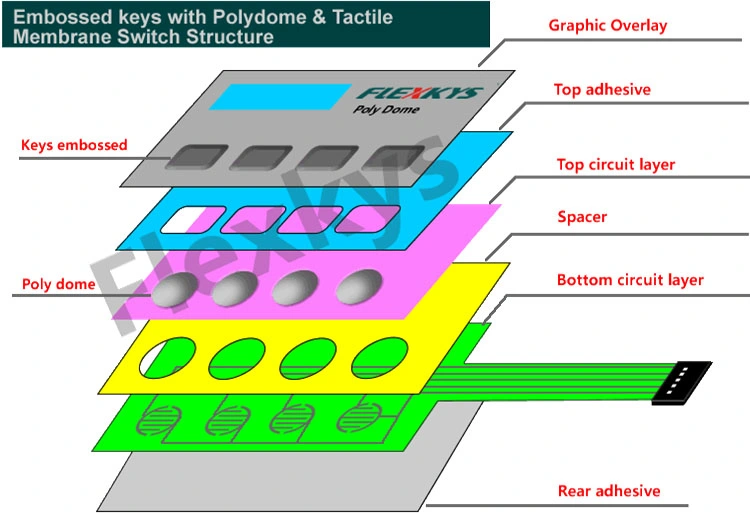 (2) Our Products' Show

(3) Membrane Panel Description
Basic Inforamtion

Product

Membrane panel/ Lens/ Display/ Screen

Material

PC/PVC/PET/PCB/FPC/PMMA/Silicon

Overlay Material

The most commonly used materials are polyester (PET) and polycarbonate (PC).

Spacer

Double side adhesive.

Rear Adhesive

3M 467MP, 3M 468MP,3M 9448A,3M 9080,3M 200, 3M 300, etc.

Feature

Enclosed, Wate-rpoof, Dust-proof, moisture-proof , Light weight, Small volume.

Standard Tolerances

+/-.010 inch (+/-0.25mm).

Color

Any color according to your preference/ Customized

Product Certification

ASTM F963-16,CCC, FCC,CE,ROHS,SGS, etc.

Company Certification

UNIVERSAL STUDIOS(JAPAN), BANDAI,BV,
OHSAS18001:2007,ISO14001:2004,ISO/TS16949:2009
ISO13485:2003,TUV,UL,SGS, etc.

Mechanical

Life Expectancy

1,000,000 actuations per switch position

Actuation Force

6~24 ounces (170~680g), Range depending on customer specification

Switch Travel

.005" to .030" (0.1~0.8mm) typical

Overall Thickness

.020" to .050" (0.5~1.3mm) typical

Tail Flexible Feature

180° to any angle

Environmental

Storage Temperature

-40°C (-40°F) to +85°C (185°F)

Storage Altitude

Sea level to 35,000 feet.

Operating Temperature

-30°C (-30°F) to +75°C (170°F)

Humidity

No delamination after 24 hours at 80°C and 90%RH

Service Life Time

≥

1million times

Rebound time

≤

6ms

Common Applications

(1) Auto Industry
(2) Medical Equipments
(3) Numerical Industrial Control Machines
(4) Household Applications (Fridge, Washing machine, Microwave ovens, Vedio Equipments, Televison, etc.)
(5) Instruments, Game Player, Computer, Server, Firness Equipments and so on.

Membrane Panel Advantage

(1) Attractive looking, delicate jade, polish or dull polish, feel good
(2) Tightness is good ,moisture-proof ,dust-proof ,waterproof ,anti-corrosion and erosion of harmful gases proof;
(3) Low cost, long lifespan.
(4) Customized specification is available and keys can make different shapes.
(5) Protection by design, easier to protect from UV radiation than mechanical switch
(4) Our Factory Introduction
Shenzhen Yizexin Technology Co., Ltd has two branch companies, one is Yizexin (HK) Technology Co., Ltd. and the other is Shenzhen An Kang Sports Equipments Co., Ltd.

Founded in 2004, It's an industry leading producing and R&D manufacturer in silk screen printing, gift and electronic areas with deep domain expertise and best service to help clients get high-quality and competitive products with 15 years history. Based on our professional and innovative technologies, we produce membrane switch, flexible circuit, membrane panel, lens, crystal epoxy, adhesive sticker, name plate and so on. In addition, there is an electronic department to produce various electronic products (eg. writing tablet, air purifier, mosquito killer, keyboards, Bluetooth speaker etc). Also, we have a gift department to produce various gifts (eg. acrylic ornament etc). Our products are widely used in electronic products, household appliances, toys, industry control equipments, medical equipments, telecommunication area, vehicle-mounted, lighting, instrument and apparatus, fitness equipments, power, mobile phone and so on, which have been widely exported to Europe, America, Japan and other countries, received praise from our clients.
There are more than 500 staffs in our factory with a variety of sophisticated high-end modern equipments, like all-auto silk-screen printer, semi-auto silk screen printer (15 sets), six-color printer, CNC engraving machine (25 sets), digital control cutting machines, laser cutter, injection molding machine, punching machine, etc. We also have dust-free workshop and labs, etc. There are many testing equipments in the labs, like binary tester,high and low temperature tester, tension tester, height tester, membrane switch life tester, membrane switch lead tester, etc. After several years' development and advancement, we've gained many achievements and certifications. Our company has passed ISO 9001:2008, ISO 14001:2004, OHSAS18001:2007, UL, SGS, TUV quality management system certification and other related product certifications (CE, FCC, RoHS, CCC, ASTM F963-16, etc). At the same time, we are the authorized factory of (Japan), Bandai (Japan) and Universal Studios (Japan). We are also the designated supplier of Foxconn.
We attach great importance to win-win cooperation and focus on winning more value for our clients. "Continuous improving and serve for you with all sincerity" is our service tenet. You support is our developing dynamic and welcome your visit and guidance.
(5) Why Choose Us?
Advantage
(1) Imported and environment materials (like PET, PC, rear adhesive, conductive silver) , which guarantee the quality.
(1) Using quality control equipments and reduce the rejection rate of products, stable leading time.
(2) Smooth production process and well-managed, pay close attention to the production safety and production of environmental protection with strong sense of social responsibility.
(3) Get famous authoritylike , Universal, Bandai, Foxconn and get several
Certifications like OHSAS18001:2007, ISO14001:2004, ISO/TS16949:2009, ISO13485:2003, TUV, UL, SGS, ROHS, FCC, CCC, CE, ASTM-F963-16.
(4) Strong research and development capability with professional designers and engineers who are willing to challenge more difficult products.
(5) Many experienced and skilled old staffs and some of them have worked in Yizexin for more than 10 years.
(6) Overlays can be screen or digitally printed with stunning, photo-quality graphic effects, customized.
(7) Large product range which covers all kinds of products in this industry.
(8) Large scale and having the advantage of scale effect with competitive price and high tolerance of risk.
(9) Good service, contact me and feel it ~
We Love You, To Be Your Trustworthy Supplier!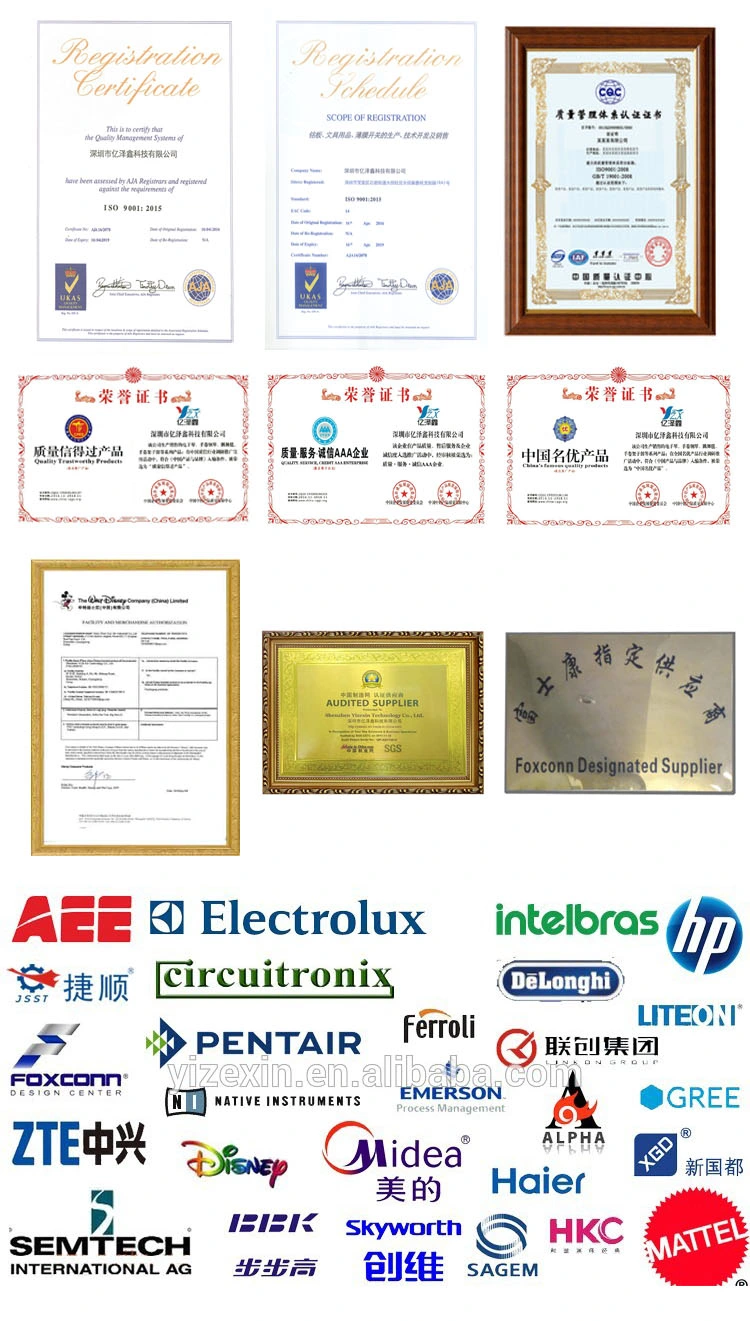 Contact Us
Miss. Angela
Mobile: +86 133 8036 4983
LinkedIn: +86 133 8036 4983
Facebook: +86 133 8036 4983
Twitter: +86 133 8036 4983
*********************************************************
Shenzhen Yizexin Technology Co., Ltd.
Add: 9
Building A,B,No.80,Shilong Road, Shiyan Town, Shuitian Village,
Baoan District, Shenzhen, Guangdong, China.518108.
Tel: +86 0755 2305 1895 Fax: +86 0755 2761 0796
Web: http://yizexin.en.made-in-china.com
Make impossible possible, make your idea realize!
Please don't hesitate to contact lovely Angela.
Thank you for your kindly reading.