(1) Membrane Switch Introduction
Flexible electronics
, also known as
flex circuits
, is a technology for assembling electronic circuits by mounting electronic devices on flexibleplastic substrates, such as polyimide, PEEK or transparent conductive polyester
[1]
film. Additionally, flex circuits can be screen printed silver circuits on polyester. Flexible electronic assemblies may be manufactured using identical components used for rigid printed circuit boards, allowing the board to conform to a desired shape, or to flex during its use. An alternative approach to flexible electronics suggests various etching techniques to thin down the traditional silicon substrate to few tens of micrometers to gain reasonable flexibility, referred to as flexible silicon (~ 5 mm bending radius).
(2) Our Products' Show
(3) Membrane Switch Description
Basic Inforamtion

Product

Membrane switch

Material

PC/PVC/PET/PCB/FPC/PMMA/Silicon

Overlay Material

The most commonly used materials are polyester (PET) and polycarbonate (PC).

Spacer

Double side adhesive.

Rear Adhesive

3M 467MP, 3M 468MP,3M 9448A,3M 9080,3M 200, 3M 300, etc.

Feature

Enclosed, Wate-rpoof, Dust-proof, moisture-proof , Light weight, Small volume.

Standard Tolerances

+/-.010 inch (+/-0.25mm).

Color

Any color according to your preference

Product Certification

ASTM F963-16,CCC, FCC,CE,ROHS,SGS, etc.

Company Certification

UNIVERSAL STUDIOS(JAPAN), BANDAI,BV,
OHSAS18001:2007,ISO14001:2004,ISO/TS16949:2009
ISO13485:2003,TUV,UL,SGS, etc.

Electrical

Operating Voltage

0~35 VDC

Resistance

<100MΩ,250VDC

Contact resistance

0.5-10Ω

Operating Current

100 MA Max

Operating Contact resistance

≤

10Ω

Insulation Ink Voltage

100 VDC

Contact Bounce

Less than 5 Milliseconds typical.

Base Material Voltage Durable

2000VDC

Conductors

Printed silver conductive inks or carbon blend.

RFI and ESD Shielding

Available in most configurations.

Mechanical

Life Expectancy

1,000,000 actuations per switch position

Actuation Force

6~24 ounces (170~680g), Range depending on customer specification

Switch Travel

.005" to .030" (0.1~0.8mm) typical

Overall Thickness

.020" to .050" (0.5~1.3mm) typical

Tail Flexible Feature

180° to any angle

Environmental

Storage Temperature

-40°C (-40°F) to +85°C (185°F)

Storage Altitude

Sea level to 35,000 feet.

Operating Temperature

-30°C (-30°F) to +75°C (170°F)

Humidity

No delamination after 24 hours at 80°C and 90%RH

Service Life Time

≥

1million times

Rebound time

≤

6ms
(4) Membrane Switch Application
Household Appliance

Industrial Equipment

Other

microwave oven

Medical Facilities

Game machine

air conditioner

Industrial control facilities

Electronic organ

TV remote control

Aviation industry

Electronic drum

Refrigerator

Motor Vehicles

Hunter machine

Induction cooker

Telecommunication equipment

Mobile charger

Electromagnetic oven

Vehicle starting power

Server

Lighting

Numerical control machine

Electronic sphygmomanometer

Washing machine

Computer numerical control

Fitness equipment

Televison

Plotting instrument

Treadmill

Fan motor

Digital machine

Running machine

Electronic lock

Electronic measuring instrument

Monitor

Video equipment

industrial weighing machinery

Copying machine

Remark

Membrane switches are applied in many areas.
(5) Membrane Switch Advantage
Product

Advantage

Membrane Switch
Membrane keyboard
Memebrane keypad
Overlay graphic

(1) Attractive looking, delicate jade, polish or dull polish, feel good

(1) Completely sealed surface, sterilized and easily cleaned.

(2) Simple structure and easy installation

(3) Cost-effective alternative, cheaper than mechanical switch

(4) Small occupation area, innovative design

(5) Easy to interface with existing controllers, no special electronics required, as with touch screens.

(6) Overlays can be screen or digitally printed with stunning, photo-quality graphic effects.

(7) Protection by design, easier to protect from UV radiation than mechanical switch

(8) Waterproof designs, meets NEMA 4 and IP 67 specifications.

Remark

More and more products take full use of membrane switch.
(6) Our Factory Introduction
Shenzhen Yizexin Technology Co., Ltd has two branch companies, one is Yizexin (HK) Technology Co., Ltd. and the other is Shenzhen An Kang Sports Equipments Co., Ltd.

Founded in 2004, It's an industry leading producing and R&D manufacturer in silk screen printing, gift and electronic areas with deep domain expertise and best service to help clients get high-quality and competitive products with 15 years history. Based on our professional and innovative technologies, we produce membrane switch, flexible circuit, membrane panel, lens, crystal epoxy, adhesive sticker, name plate and so on. In addition, there is an electronic department to produce various electronic products (eg. writing tablet, air purifier, mosquito killer, keyboards, Bluetooth speaker etc). Also, we have a gift department to produce various gifts (eg. acrylic ornament etc). Our products are widely used in electronic products, household appliances, toys, industry control equipments, medical equipments, telecommunication area, vehicle-mounted, lighting, instrument and apparatus, fitness equipments, power, mobile phone and so on, which have been widely exported to Europe, America, Japan and other countries, received praise from our clients.
There are more than 500 staffs in our factory with a variety of sophisticated high-end modern equipments, like all-auto silk-screen printer, semi-auto silk screen printer (15 sets), six-color printer, CNC engraving machine (25 sets), digital control cutting machines, laser cutter, injection molding machine, punching machine, etc. We also have dust-free workshop and labs, etc. There are many testing equipments in the labs, like binary tester,high and low temperature tester, tension tester, height tester, membrane switch life tester, membrane switch lead tester, etc. After several years' development and advancement, we've gained many achievements and certifications. Our company has passed ISO 9001:2008, ISO 14001:2004, OHSAS18001:2007, UL, SGS, TUV quality management system certification and other related product certifications (CE, FCC, RoHS, CCC, ASTM F963-16, etc). At the same time, we are the authorized factory of Bandai (Japan) and Universal Studios (Japan). We are also the designated supplier of Foxconn.
We attach great importance to win-win cooperation and focus on winning more value for our clients. "Continuous improving and serve for you with all sincerity" is our service tenet. You support is our developing dynamic and welcome your visit and guidance.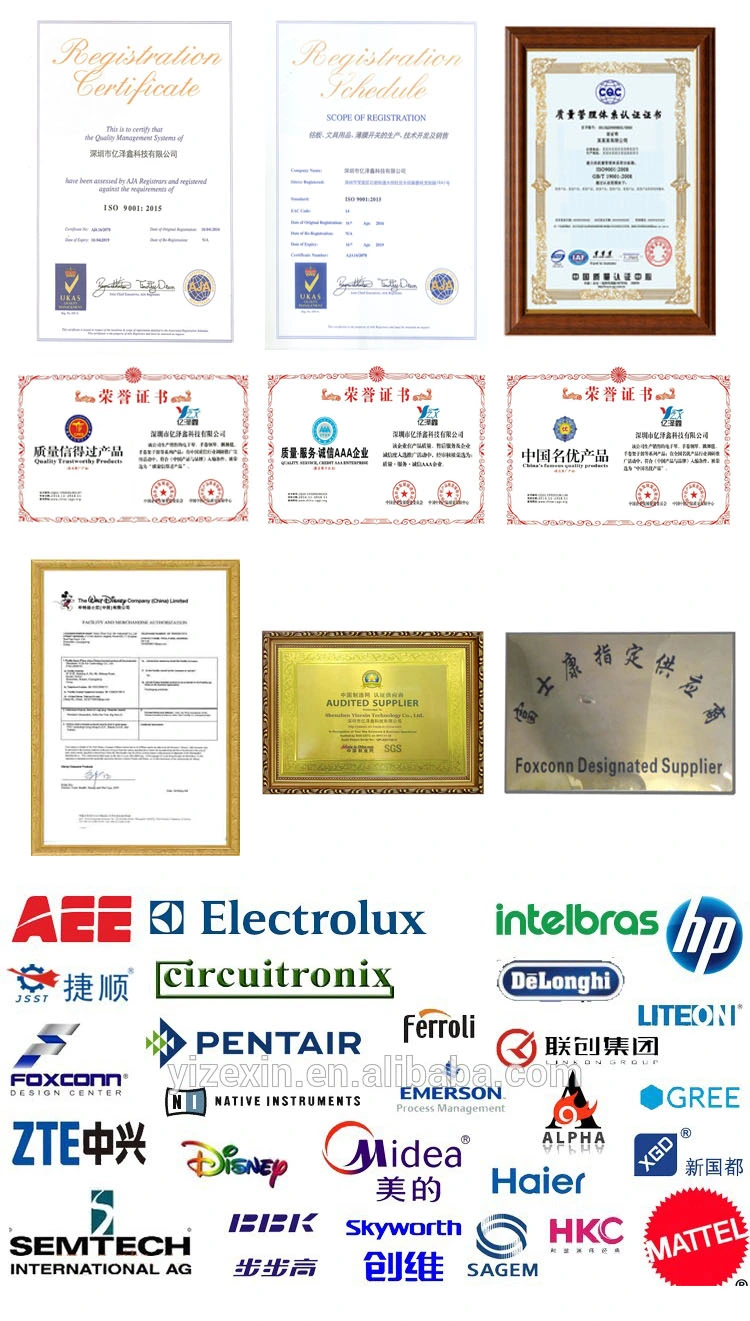 Contact Us
Miss. Angela
Mobile: +86 133 8036 4983
*********************************************************
Shenzhen Yizexin Technology Co., Ltd.
Add: 9
Building A,B,No.80,Shilong Road, Shiyan Town, Shuitian Village,
Baoan District, Shenzhen, Guangdong, China.518108.
Tel: +86 0755 2305 1895 Fax: +86 0755 2761 0796
Web: http://yizexin.en.made-in-china.com
Make impossible possible, make your idea realize!
Please don't hesitate to contact lovely Angela.
Thank you for your kindly reading.